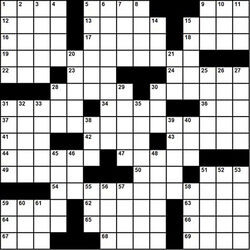 Welcome to the Crossword Dictionary Wikia
Edit
The purpose of the Crossword Dictionary is to help other crossword solvers to find the answers to various clues based on several subjects (i.e. Bible, chemistry, geography, history, idioms, foreign language, literature, mathematics, music, poetry, proverbs, science, vocabulary, etc.) that one might find in various sources, like the newspapers, magazines, or even online. Crossword Dictionary Wikia is available to anybody who can edit, and expand this dictionary.
Crossword Clues
Edit
The utile thing about crossword puzzles is that it contains clues. Since some newspapers contain progressive difficulty, from Monday (easy) to Friday (hard), you will find that there are ways one can find the answers to clues, depending on how it is written out.
Latest activity
Edit
Photos and videos are a great way to add visuals to your wiki. Find videos about your topic by exploring Wikia's Video Library.